Reviews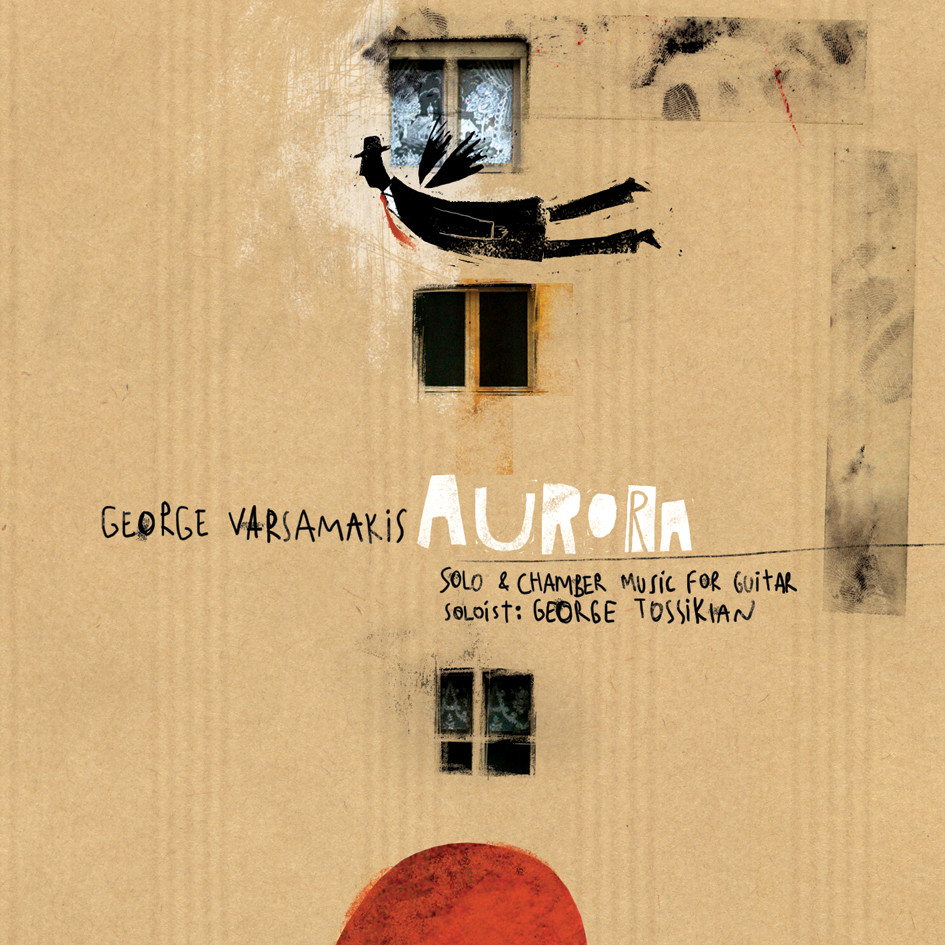 "Kathimerini" newspaper, Nikos Vatopoulos
The chemistry between composer George Varsamakis and guitarist George Tossikian generates a mood of great heat and controlled intensity. Their new collaboration in "Aurora" has resulted in a strikingly atmospheric album that sounds like the echo of a distant memory, or like a musical landscape with warm hollows and cool plateaus. Tossikian's guitar produces the ripe sound of a soloist on the fine line between emotion and technique (as, for example, in "Myth of Sevan Lake"). There is a pervasive sense of narration, since Varsamakis' music is always pictorially suggestive, and often enveloped in a cinematographic aura.
"LIFO" magazine, Antonis Boskoitis
In "Aurora", composer George Varsamakis has had the good fortune to collaborate with guitarist George Tossikian, who has a deep knowledge of both the classical repertoire and his music. The result is fascinating, within the framework of a refined, subtle, and extremely tasteful music, free of pompous orchestration. One might add that, despite the virtuosity of the guitarist - performer, these pieces gain in emotion rather than technical perfection, which was, in any case, guaranteed. The listener cannot but wonder at the perfect match between the art of Tossikian and that of Varsamakis.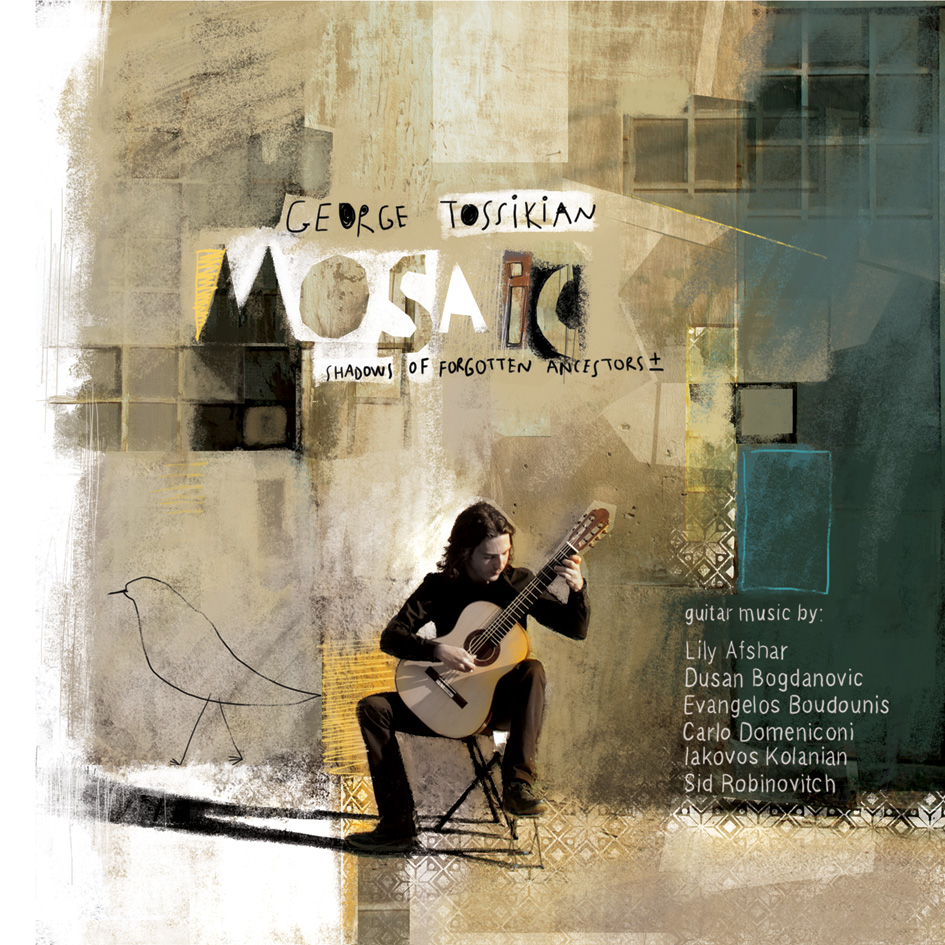 Evangelos Boudounis
"Excellent in all respects!Sound, clarity, interpretation and ethos!"
Lily Afshar
"George Tossikian played the Persian Ballads with so much sensitivity and musical taste."
"Kathimerini" newspaper - Nikos Vatopoulos
With his new record, George Tossikian has established himself as an aspiring, hard-working, poised guitarist. His sound achieves the ideal equilibrium between the immaterial and the concrete. Through a sweet, sad aura of fluid Levantine, Jewish, Persian and Balkan melodies, George Tossikian has offered a thematic record by bridging compositions that are united by the deep, well-assimilated heritage of the "intermediate area" between East and West.
"LIFO" magazine, Antonis Boskoitis
A tasteful "Mosaic" of harmonies, poetic images and different musical traditions. There lies the talent of Tossikian: to interpret works from heterogeneous cultures and, through his playing, to unite them in a common idiom, full of lyricism and sentiment. One of the best releases for the fans of guitar and classical music!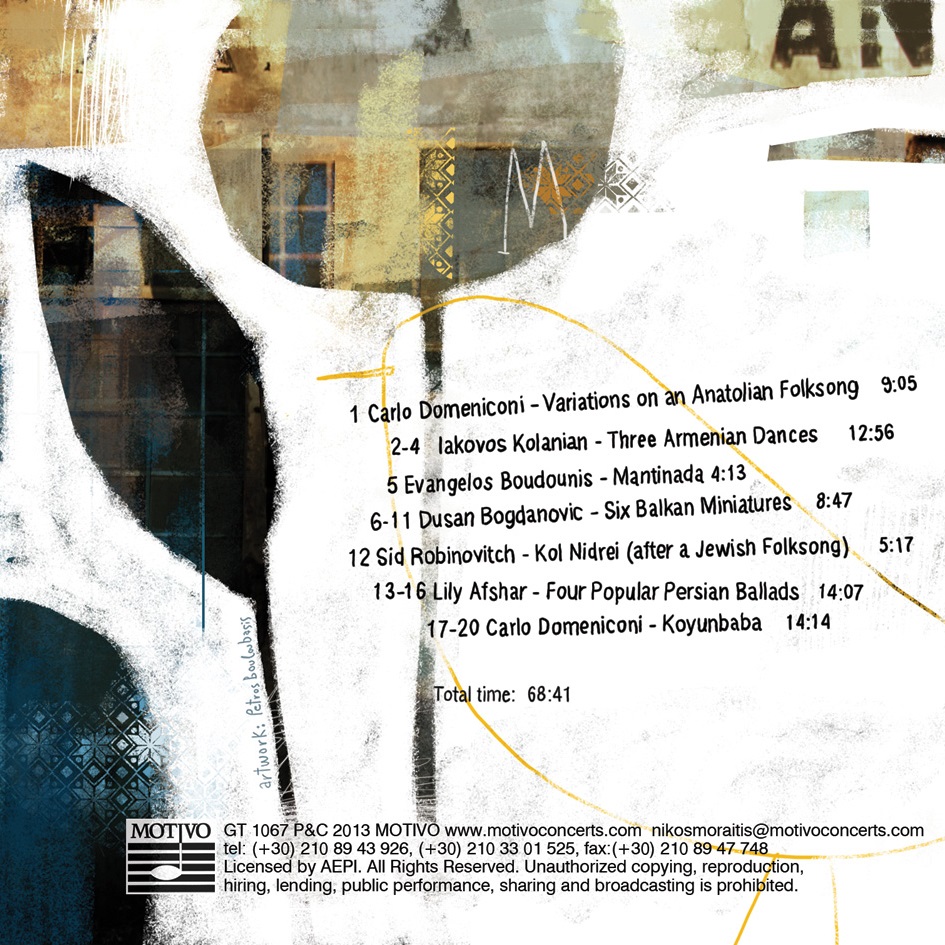 "Eleftherotypia" newspaper, Giorgos V. Monemvasitis
Sound colors of the East, which remind us that distance in art, and especially music, exists only in our minds. Interpretations from the heart, in which sentiment and logic are in perfect balance. Throughout the recording, the musical grandeur of the East unfolds nostalgically, enveloped in a mist of sweet melancholy. The discreet subtitle "Shadows of Forgotten Ancestors", the title of a film by the poet of images Sergei Parajanov, is indicative of this.
Epohi newspaper, Liana Malandrenioti
It is already three years since his first appearance in discography with the collection "Guitar Music by Greek Composers", and, having faithfully served the aesthetic of the great Greek guitar school in the meantime, Tossikian now presents his new album "Mosaic". The melodic pieces of this mosaic are rendered by the gifted performer with the appropriate style and sensitivity; he brings out the special timbres, stresses the various rhythms and creates a harmonious and agreeable sound.In the works are incorporated poetic images, nostalgic dances of vanishing traditions, ballads with folk tales, truth, sentiment and lyricism. One could not remove even one piece of this "Mosaic" without spoiling the picture. Undoubtedly, a very special record for the friends of the guitar and of good music.
Athinorama magazine, Argyris Zilos
As the formalistic dust that had been gathering on the guitar repertoire for years is suddenly blown away by a draught of freshness, one has to admit that here, if nothing else, the classical guitar does not open its heart to a chance interlocutor.
"Kathimerini" newspaper - Nikos Vatopoulos
The first record of George Tossikian, one of our most talented young musicians in the field of classical guitar, came as a surprise. The album entitled 'Guitar Music by Greek Composers' displays a fine selection of Greek works for classical guitar, most of them recorded for the first time. But it is not only the works themselves but, mainly, the powerful, noble and controlled interpretation of George Tossikian. Tossikian's interpretation has an exquisite sound and his first discographic appearance occurs with an album that will make its mark.
"JAZZ & JAZZ" magazine, Kornilios Diamantopoulos
We welcome a gem of Greek production for solo guitar. The musical education of the 29-year-old guitarist is obvious, not only in his impressive résumé, but also in his sound. Having studied under top guitarists, he acquired the foundations of a solid technique that allows his innate and well-developed musicality to express itself with absolute precision. One might say that, if there was "perfection" in Art, this record would be perfect in its entirety (production, selection, artwork and -especially- interpretation).
TAR magazine, Efi Agrafioti
The selection of works is representative of our time, the sound, the aesthetic approach without academic obsessions… Music beautifully played by a gifted guitarist of the younger generation.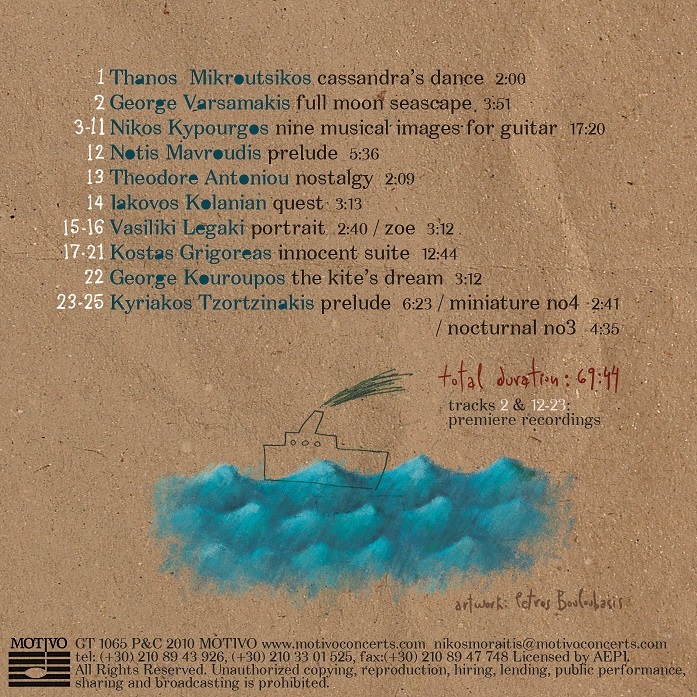 "Diphono" magazine, Liana Malandrenioti
With his first record entitled 'Guitar Music by Greek Composers', George Tossikian proves that he is justly considered one of our most remarkable young guitarists. Listening to this record not only makes us acquainted with some important Greek guitar composers but is also a really enjoyable experience. The diversity of style and technique of the works is brought out with true expression, rare sensitivity and high aesthetic.
"JAZZ & JAZZ" magazine, Thomas Tamvakos
The perfection of the recording, the high standard of the interpretative approach and the fine selection from a wide range of Greek serious music make it very important and indispensable, one of the best of its kind in recent years. You will listen to practically unknown - yet splendid - works for the guitar and be transfixed by the flawless interpretation of the promising soloist.
TAR magazine, Kostas Grigoreas
George Tossikian, a fine guitarist of the younger generation - equipped with all that is necessary to allow himself to claim the title of accomplished artist – made the right move: he got the right people to create, gathered previously unexploited material and, successfully completing a recording of exquisite quality, appeared on the scene with a proposal and a clear identity...'GEORGE TOSSIKIAN PLAYS GREEK COMPOSERS'... I encourage you to buy the cd! If you love the guitar and Greek music you'll have nothing to lose.